About latexperiment & its history
Welcome to the world of latexperiment, where latex transcends its traditional boundaries and becomes a bold fashion statement. I, Raymond K. Larum, founded this website in 2009 with the mission to showcase latex as a versatile and stylish material, not just a niche fetish. Since its inception, latexperiment has featured unique collaborations, showcasing latex catsuits alongside everyday fashion, and even incorporating professional ballet dancers dressed in latex. Despite initial resistance from the hard-core fetishist community, my determination to push the envelope has resulted in many former critics becoming fans or, at the very least, acknowledging the relevance of my work. With over a decade of experience in latex fashion and design, I have channeled my passion and expertise into my future brand, "latexkind", an eco-friendly, organic, and modern slow fashion brand targeting females aged 16-35. Together, let's break free from the stigma and embrace latex as the stylish and empowering material it truly is.
latexperiment: Breaking Stereotypes
For years, latex has been confined to the realm of fetishists, with many considering it taboo or indecent. However, at latexperiment, the models and I believe in breaking these stereotypes and showcasing the beauty of latex as a versatile and fashionable material. My unique collaborations with diverse talents, from professional ballet dancers to everyday people, have helped redefine latex's image in the public eye.
The journey has not been without its challenges. I faced resistance from the hard-core fetishist scene, who were uncomfortable with our attempts to bring latex into mainstream fashion. However, we persevered, proving that latex can be both empowering and beautiful outside of its traditional context.
Over time, I have managed to win over many of my early critics. By consistently pushing the boundaries of what latex fashion can be, my models have shown that it is a material worth celebrating, not just for fetishists, but for everyone.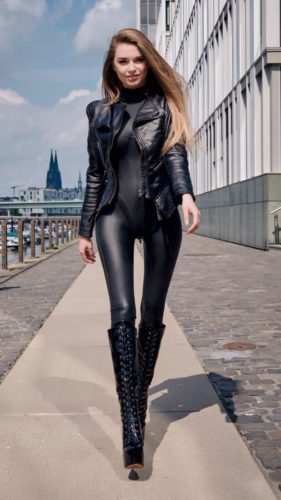 From Repairing Latex to Building a Brand
As a self-taught designer and latex enthusiast, I have spent years learning the intricacies of working with this unique material. From repairing torn outfits to creating my own designs, I have honed my skills and developed a deep understanding of latex's potential as a fashion element.
This hands-on experience has been invaluable in building my brand, latexkind. I know the challenges and joys of working with latex firsthand and have a passion for creating pieces that are not only stylish but also practical and eco-friendly.
Drawing on my years of experience, latexkind represents a new era for latex fashion. With a focus on organic, vegan, and ecological materials, I'll redefine what it means to wear latex and make it accessible to a whole new generation of fashion-conscious consumers.
latexkind: A New Perspective on Latex Fashion
latexkind (English: latex child) is not just another latex brand – it's a movement. I am dedicated to change the perception of latex and making it a mainstream fashion choice for the modern woman. By targeting females aged 16-35, I aim to create a new generation of latex enthusiasts who appreciate the material for its unique aesthetic and empowering qualities.

My designs are a far cry from the clichéd fetish wear often associated with latex. Instead, I focus on creating stylish, wearable pieces that can be incorporated into any wardrobe. From chic dresses to edgy accessories, latexkind offers a fresh take on latex fashion.
By championing organic, vegan, and ecological materials, I also ensure that my brand is ethically responsible and in line with the values of our target audience. This commitment to sustainability sets it apart from other latex brands and paves the way for a more inclusive and forward-thinking future for latex fashion.
Embrace the Latex Revolution
The time has come to break free from the outdated stereotypes surrounding latex and embrace it as the empowering, fashion-forward material it truly is. At latexperiment and latexkind, the models and I are leading the charge in revolutionizing the way people perceive and wear latex.
Together we invite you to join us on this exciting journey, as we continue to innovate and push the boundaries of latex fashion. Whether you are new to the world of latex or a seasoned enthusiast, there is something for everyone in our photos, videos and the collections of latexkind.
Together, let's redefine latex fashion and empower a new generation of stylish, confident individuals who are unafraid to make a statement. Embrace the latex revolution and discover the limitless possibilities of this unique and versatile material. Wear it with pride, and become a part of the movement that is changing the view of latex forever.